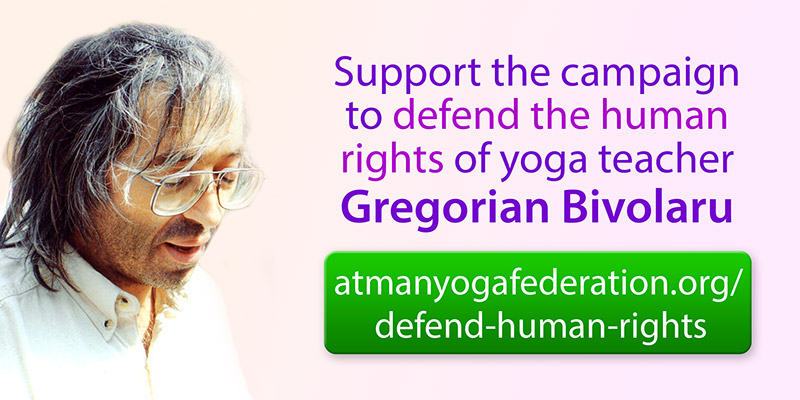 Dear yoga students,
The member schools of the Atman Federation of Yoga and Meditation wish to support the human rights campaign aiming to defend and protect the yoga teacher Gregorian Bivolaru from the on-going abuse and mistreatment he continues to be subjected to.
The recent events and the deliberate attempt to once again stir up hatred and misinterpretation of his work and his being, is a clear sign that action needs to be taken to readdress the balance and support the work of justice and to uphold basic human rights, in order for these rights to prevail in the face of intolerance, fear, obscurantism and injustice.
In response to this the Atman Federation of Yoga and Meditation have launched a privately funded campaign that aims to support the team that has been internationally defending the case of Gregorian Bivolaru for many years. Many of you have been asking in the past few weeks how you can help. Some of you can use their specific skills and provide direct support to this team. It is now also possible for everyone to personally support this campaign by making a donation.
The administration of all the donations will be conducted in an open and transparent manner, with accounts that can be viewed at any time.  
Donations outside the UK and under 835€
For donations made from outside the UK and under an amount of 835€ please use PayPal (also possible without creating a PayPal account, directly by using your credit card):  
Donations inside the UK or above 835€
For donations made from inside the UK of any amount and for international transfer of more than 835€ please use a direct bank transfer to the following account:  
Account holder name: Atman – The International Federation of Yoga and Meditation
Bank name: Santander Bank
Sort code: 090128
Account number: 51302411
IBAN: GB31ABBY09012851302411
BIC: ABBYGB2LXXX
Reference: Donation for Bivolarus Human Rights Campaign.  
Thank you very much for your generosity. Together we can make a true difference!