From 08/04/2020 - 13/04/2020
in
Maha Yoga Zentrum Berlin, Germany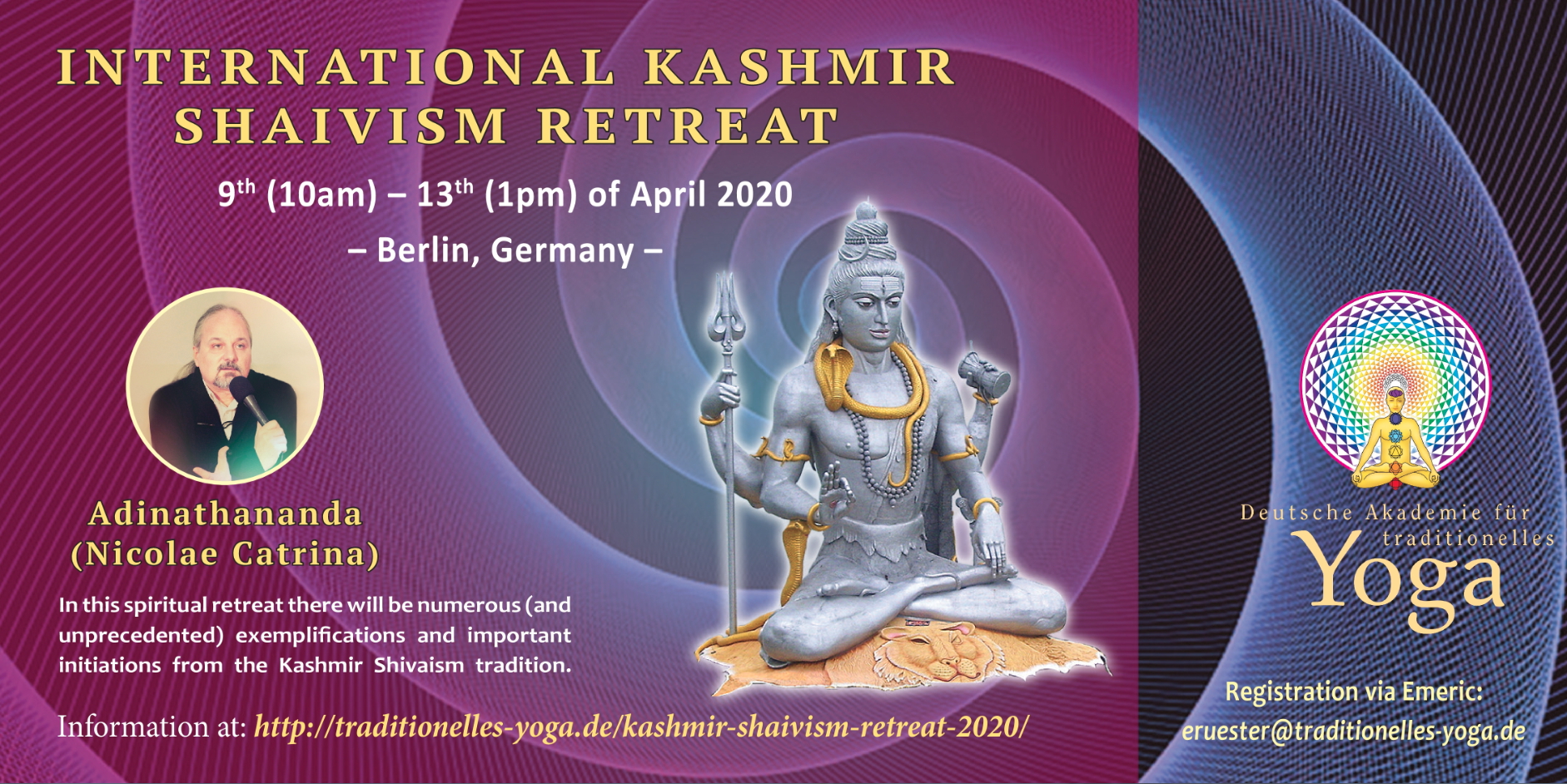 The tradition of Kashmir Shaivism is one of the most elevated, exquisite and pure form of Tantra, offering both a particularly complex metaphysics and some of the most direct, fast, complete, and extraordinary methods of spiritual accomplishment.
The unique theoretical and practical framework of this spiritual retreat will give to all participants the possibility of easily stepping into superior, ecstatic states of consciousness, as well as accessing authentic forms of spiritual enlightenment.
In this spiritual retreat there will be numerous (and unprecedented) exemplifications and important initiations from the Kashmir Shivaism tradition, such as:
New esoteric revelations on the formidable power of the Yoni (SPECIAL TANTRIC TECHNIQUES INCLUDED)!
Initiation into the esotericism of a new fundamental hypostasis of Shiva – A SPECIAL MANTRA WILL BE OFFERED (on drawing lots)
The Initiation into the secret practice of MAHA-MRITYUNJAYA YANTRA & BIJA-MANTRA (for obtaining infallible spiritual protection, karmic purification, emotional healing, spiritual enlightenment and many other beneficent effects)
Esoteric methods and techniques for accelerated spiritual awakening
A new initiation – on drawing lots – in KAMA SHAKTI MANTRA
Initiation in KANDARPA (KAMA) YOGA (the yoga of pure, godly eros)!
The traditional spiritual ceremony for activating the formidable power of the Shivalingam, the essential godly creative power, will be repeated!
The esoteric revelations about the formidable power of the lingam and the formidable, complementary power of the yoni, are the foundation of the Tantric tradition and the energy-background for some of the most important and most effective spiritual initiations.
Important note!
For those who have not participated to previous Shaivism spiritual retreats and wish to attend the exceptional ceremony of communion with Shiva through the awakening of the formidable power of the Shivalingam it will be necessary to assimilate the theoretical and practical initiation into the actual ritual.
Replaying of related lectures will take place on Wednesday, April 8th, 15:30 to 20:30.
The price for the lecture is 30 € (additional to the participation fee).
Very important!
During this spiritual retreat a new group of intensive preparation for Kashmir Shaivism teachers will start. Students who have graduated at least the 2nd year of our Shaivism course and who speak English fluently can sign up for this special group.
Registration: comanda@anima-animus.ro or call +40732233377
About the teacher
Adinathananda (Nicolae Catrina) is the founder of the only Kashmir Shaivism course in Europe and also a yoga teacher with more than 30 years of experience.
The course was born more than 20 years ago and offers, in a unique way, adapted to the western mindframe, to thousands of students from Romania and other countries around the world, the richness and depth of this spiritual tradition. His profound interest in various forms of authentic spirituality and his spiritual intuition helped him to create several other courses, among which Tantric Alchemy, Enneagram, Esoteric I Ching, so on. He also founded a unique system for revealing the Divine Self, Atman, based on a supramental yet very accessible approach, which helped and inspired thousands of students reach their spiritual essence.
He is the author of several books on Shaivism, Yoga, Tantra Yoga, spiritual art, etc. As a sanskritologist, he has done translations of important yogic and tantric texts, like Saundaryalahari, Shiva Samhita or Gheranda Samhita. For his Shaivism students, he offers the translation and the esoteric practical knowledge of many traditional texts, including Shiva Sutras, Spanda Karikas and Vijnana Bhairava Tantra.
Fee (prices include the participation fee only)
Early Bird: 165 € (valid from 16th of December 2019 until 15th of February 2020)
Regular: 200 €
Kashmir Shaivism teachers (graduated and currently teaching a class): Free of charge
Members of DAtY *: 180 €
Special reduction: 140 € **
*Deutsche Akademie für traditionelles Yoga e.V.
**special reduction is given to students of ATMAN member organizations of the following countries:
Czech Republic and Slovakia
All former Jugo Countries
Romania
Moldova
Russia
We appreciate donations (in cash) as a contribution to our spiritual ceremony.
All of this donated money will be used solely to sustain the spiritual ceremony.

Food
Breakfast: 4 €
Lunch: 7 €
Dinner: 7 €
Food will be provided in the time from Wednesday the 8th of April to Monday 13th of April.
Deadline for food reservation: 26th of March 2020
Please notice that you will receive a registration form for food and further information (such as directions, recuperation schedule) from Mr.  Emeric Rüster after you signed up for the retreat.
eruester@traditionelles-yoga.de

Accommodation
Yoga Hall:  5 € per night
Please notice that you will have to bring your own sleeping bag and towel if you stay in the yoga hall.
For different accommodation types (limited availability!!!) and the corresponding prices please contact Mr. Emeric Rüster:
eruester@traditionelles-yoga.de
A list of different accommodation types will be provided on our website.
Address
MahaYoga Zentrum
Brunnenstr. 147
10115 Berlin
(directly at underground station Bernauer Str. – underground line U8 [elevator exit])
Cancellation Policy
Cancellation and refund until 15th of February 2020: complete refund.
Cancellation and refund until two weeks before the event: 50 € cancellation fee.
Cancellation and refund less than two weeks before the event: refund of 50 % of the paid participation fee.
Bank Information
Deutsche Akademie für traditionelles Yoga e.V.
IBAN: DE67 4306 0967 8202 1357 00
BIC: GENODEM1GLS
GLS Bank
Registration
Registration via email to eruester@traditionelles-yoga.de
The registration is only complete when the payment is completed.
Deadline for general registration: 26th of March 2020
Up-to-date information can be found at:
https://traditionelles-yoga.de/kashmir-shaivism-retreat-2020/