From 05/10/2019 - 09/10/2019
in
Herculane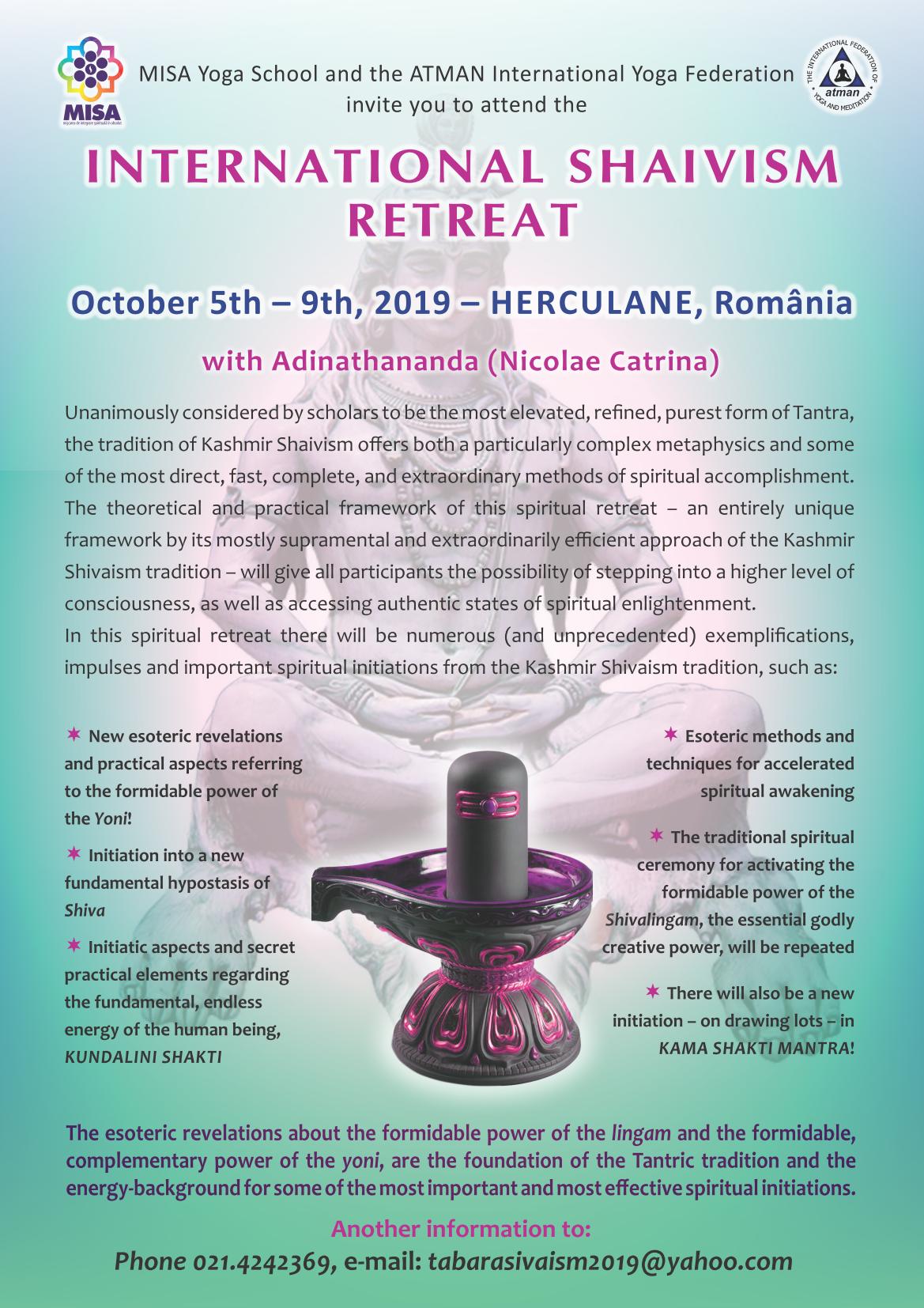 We invite you to the INTERNATIONAL SHAIVISM CAMP which will take place this year in Băile Herculane, 5th to 9th OCTOBER, 2019. All camp activities will take place in HOTEL DACIA. It is not a condition of this spiritual camp that you are on the Shaivism course!
The camp programme will begin October 5th at 10 a.m., and will include, among others:
New esoteric revelations and practical aspects referring to the formidable power of the YONI!
Initiation into a new fundamental hypostasis of SHIVA.
Initiatic aspects and secret practical elements regarding the fundamental, endless energy of the human being, KUNDALINI SHAKTI.
Esoteric methods and techniques for accelerated spiritual awakening.
The traditional spiritual ceremony for activating the formidable power of the SHIVALINGAM, the essential godly creative power, will be repeated.
There will also be a new initiation – on drawing lots – in KAMA SHAKTI MANTRA.
Important note for those who have not participated in previous Shaivism spiritual camps and wish to attend the exceptional ceremony of communion with Shiva through the awakening of the formidable power of the Shivalingam: it will be necessary to assimilate the theoretical and practical initiation into the actual ritual.
Replaying of related lectures will take place on Friday, October 4th, 15:30 to 20:30.
Recuperations for Module 4 of the International Course for Shaivism Instructors will begin on Friday, October 4th, at 8:00.
FOR THOSE ATTENDING COURSES ABROAD, the REGISTRATION will take place at Herculane before the beginning of the camp program. Persons wishing to be accommodated in one of the accommodation variants specified bellow, including meals or not, are kindly requested to contact us between 15th – 22th July, 2018, for booking!
ACCOMMODATION OPTIONS:
DOMOGLED Hotel (3 star): 264 ron/person. ADVANCE: 40 ron/person, payment rest 224 ron/person.
AMBASADOR Villa (3 star): 240 ron/person. ADVANCE: 40 ron/person, payment rest 200 ron/person.
DACIA Hotel (3 star): 200 ron/person. ADVANCE: 40 ron/person, payment rest of 160 ron/person.
DACIA Hotel (2 star): 160 ron/person. ADVANCE: 40 ron/person, payment rest 120 ron/person.
NOTE: the advance payment is not reimbursable; however, it can be transferred to another participant. The advance payment is to be paid at the Comandament when signing up and the rest of the payment at the reception of the hotel. Meal services are to be paid at the Comandament.
Those wishing accommodation starting with October 4th are kindly requested to specify this in advance.
Very important: Bookings can only be made July 15-22, 2019! The number of places is limited, the registration for accommodation will be made in order of arrival.
REGISTRATION:
For full registration information please write to e-mail: tabarasivaism2019@yahoo.com  
Contribution to Camp Participation: 70€
Those attending revisions are required to pay an additional fee of 20€.
– Shaivism instructors (Romanian and foreigners) are exempted from the registration fees.
MEALS FEE: 40 ron/day (lunch and dinner).
Persons who keep one or several fasting days are required to specify this and will pay only for the days they serve the meals.
Please note that meals serving starts with lunch on October 5th, and ends with lunch on October 9th, 2019. For those who will be accommodated from October 4th, dinner will be available from October 4th. (Lunch price: 20 RON, dinner price: 20 RON).
Food preparation will be supervised by a member of the organizing team. Vegan and / or sugar-free meals can be requested at registration.
HEADQUARTERS SCHEDULE:
October 3rd, 2019, between 17:00 – 21:00
October 4th, 2019, between 11:00 – 15:00; 17:00 – 22:00
October 5th, 2019, between 07:00 – 10:00
For more information, please contact us at:
Phone : +4021 4242369
e-mail: tabarasivaism2019@yahoo.com  
We await you with open arms!