From 11/07/2019 - 18/07/2019
in
Paradise Retreat Center, Denmark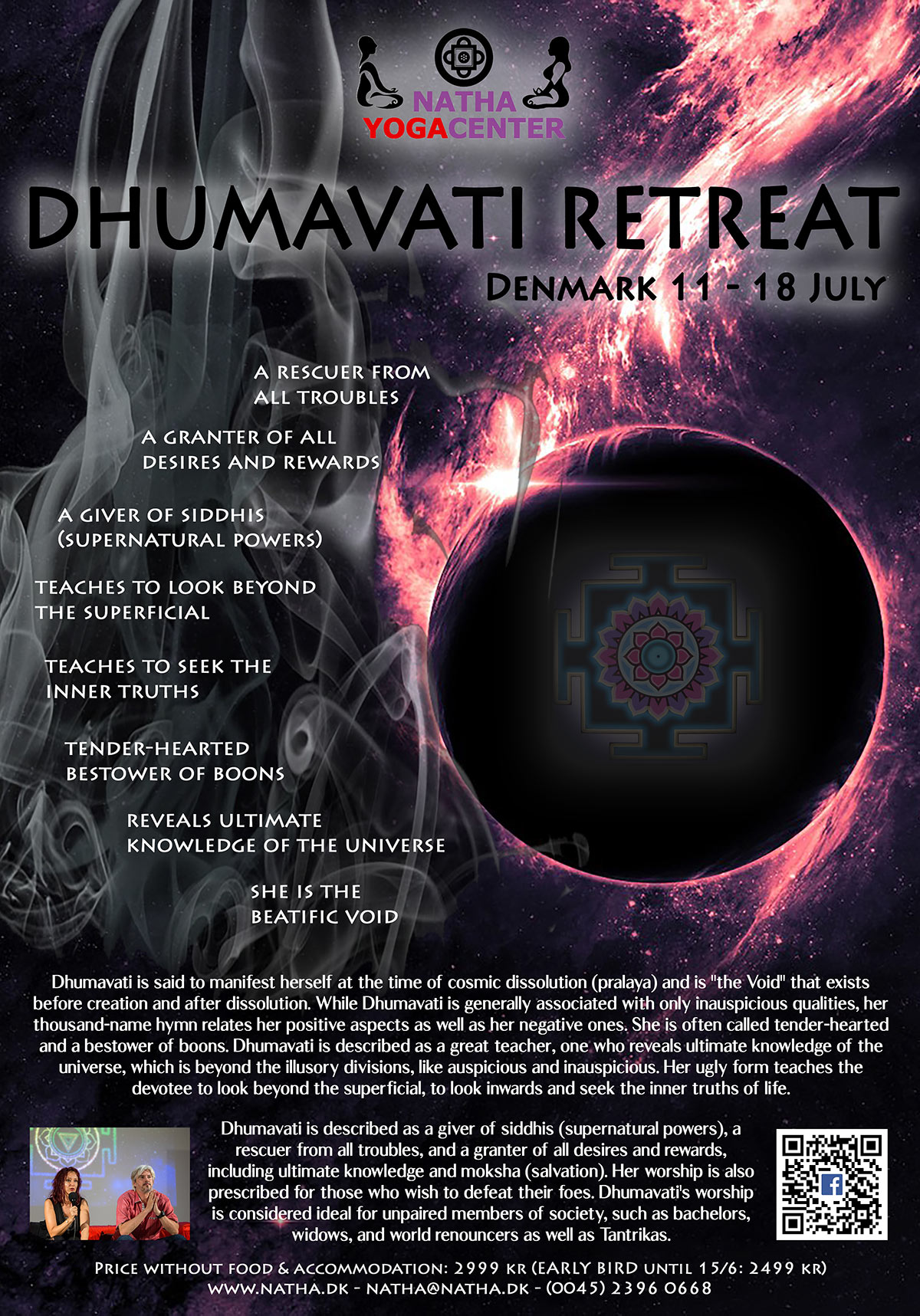 With joy and love we invite all students from 2nd year and up to participate in the celebration of the Great Cosmic Powers at this annual Maha Vidya Retreat. This year we will study the mysteries of Dhumavati – the Great Cosmic Power of void and vacuity (the 7th Great Cosmic Power).
 
The 10 Mahavidyas or Great Cosmic Powers are called the wisdom goddesses ("maha" means great and "vidya" means wisdom). They inspire and challenge the spiritual aspirant towards achieving the ultimate spiritual goal, as well as being a daily guiding companion on the path. On the tantric path the divine feminine, SHAKTI, plays an important role in the spiritual awakening.
 
This retreat is an extraordinary chance for all those who want to take a significant leap in their spiritual transformation – whether you are a beginner or advanced Tantra / Yoga student.
What you will learn:
Presentation of the tantric tradition of adoration of Shakti and the manifestation of the universal feminine force as the 10 Great Cosmic Powers
Tantric principles under the sphere of force of Dhumavati
To seek the inner truth
What the beatific void is
Discover the ultimate knowledge of the universe
Unique exemplifications, meditations, rituals and practical exercises with specific nuances of the energy of the Great Cosmic Power Dhumavati
About the teachers:
Advaita and Adina are senior teachers in Natha Yogacenter in Denmark with nearly three decades of experience in yoga, tantra, and meditation. MAHAVIDYA YOGA is a special passion of theirs and they have devoted many years to this highly efficient yoga practice.
Adina is coordinating Tantra for Women teacher training courses and Advaita is the coordinator of the Atman International Teacher Training Programs in Yoga, Tantra, and Meditation. He is the author of the Meditation Intensive Course in Natha and co-author of the Tantra Intensive Course, the world's foremost Tantra course. With almost 400 lessons this course addresses lays down the guiding principles of a tried and tested system for inner transformation
Where is the retreat?
The retreat will take place in the lush Danish countryside of Stevns, in Paradise Retreat Centre. The spectacular garden has a lake, outdoor hot tubs and a unique composition of plants and trees native to Denmark. The main activities will take place in the amazing, modernized 450 m2 Valhalla Hall coming out from the old farmhouse granary. 
Paradise Retreat Center
Spjellerupvej 41
St. Torøje
4640 Faxe, Denmark