From 28/12/2017 - 03/01/2018
in
Kubasova chalupa, Czech Republic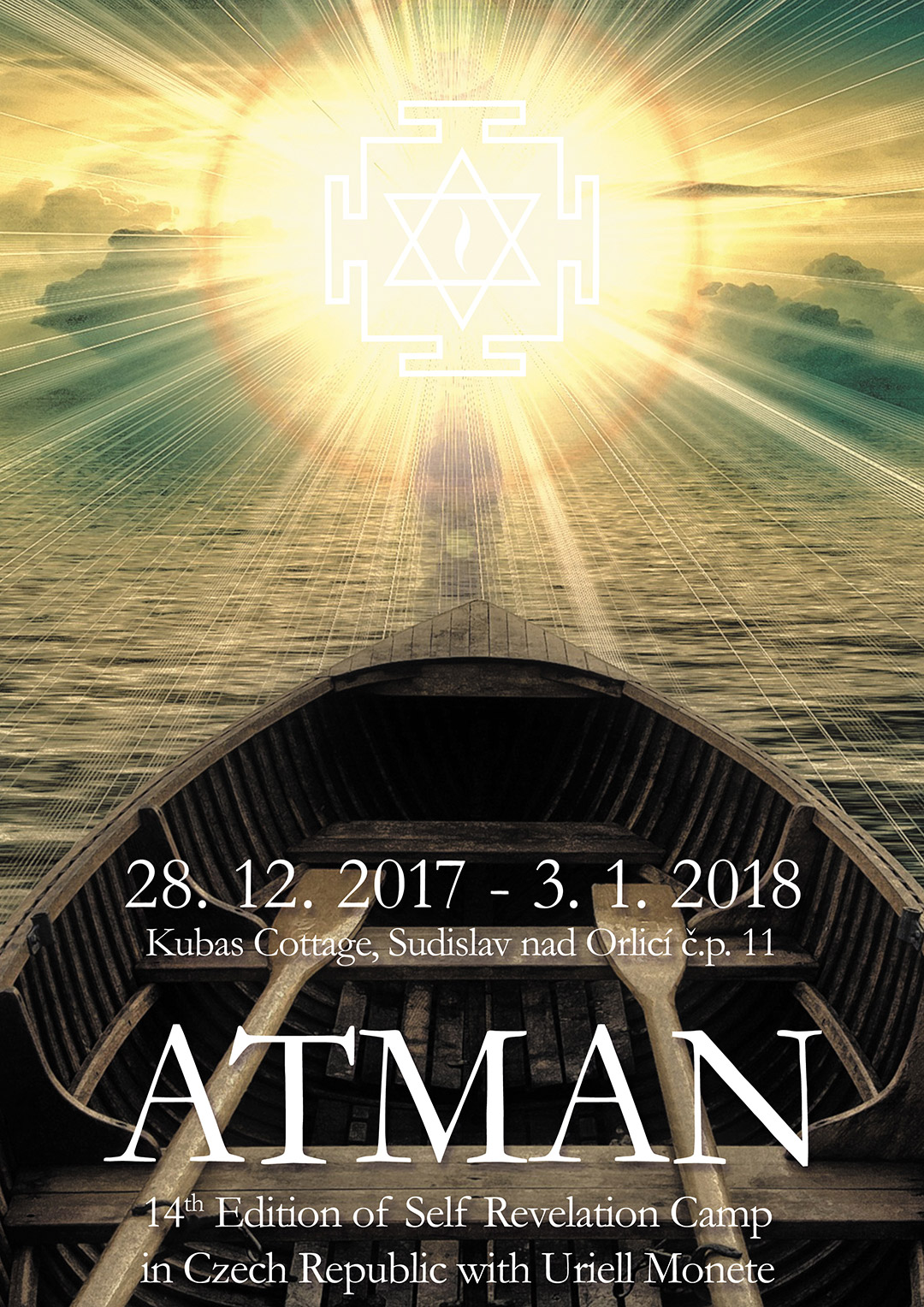 14th edition of meditation camp for revealing the Supreme Self with Uriell Monete – supported by our spiritual Guide and synchronised with camps in Denmark and Romania
Have you ever felt desire to explore the real depth of meditation? The desire that may have not been effectively satisfied, waiting patiently to quiet the longings of your soul?
Spiritual School Rezonance offers Atman camp participants a unique opportunity to experience the utmost sense of their life, showing the path, providing space and time for the Self revelation – the very essence of the divine bliss. Join us in meditation to deepen yourself.
Atman camp pursues an intensive meditation programme that includes hathayoga practice, fulfilling special conditions throughout the whole period. (For example, we keep mauna silence, eye and touch contacts as well as looking in a mirror being entirely avoided, i.e. not allowed, in order to limit activities that disturb the mind by outer world intrusion, thus distracting one´s attention from the immense Good that dwells inside us.)
The seemingly strict camp rules allow for profound interiorization and exceptional personal experience reaching way beyond empirical knowledge acquisition. When the mind calms and focuses, we set off to internally experience our unity with the Universe. The spiritual journey leads to the very essence, seeking to spark one´s consciousness development – towards Atman.
Camp is provided for all participants attending 2nd-and-above-year yoga and tantra courses run by any branch of the Atman federation.
When: 28 December 2017 (Thu) – 3 January 2018 (Wed)
Where: Kubasova chalupa, Sudislav nad Orlicí 11, Czech Republic
How much is it?
Registration before 17. December: 250 €
Registration after 17. December: 300 €
The price includes programme, accommodation and catering.
Foreign participants will pay in cash upon arrival.
Don't forget to bring with you: Yoga outfit and mat, slippers, toiletries, drugs (when prescribed)…
Might be useful: Spiritual diary, alarm clock (that won´t make noise and disturb others) 
Note: Cell phones will be kept with the camp organizers.
Firm application (and questions) to be sent to:
Aure Macháček, aure@jogin.cz, tel.: (+420) 728 48 44 76
In your application, state the name, surname, course year and place where you attend it, your instructor´s name and your phone number.
(Please let us know in advance if you are on a special diet or have some other requirements, e.g. due to your health.)
How to get there? You will be given directions on how to reach the venue from Prague.
"You should meditate for 20 minutes a day. If you are really busy and don´t have time enough, meditate for an hour at least." 
(Old zen proverb)