From 11/01/2018 - 14/01/2018
in
Tara Yoga Centre, London
More information and booking on the event website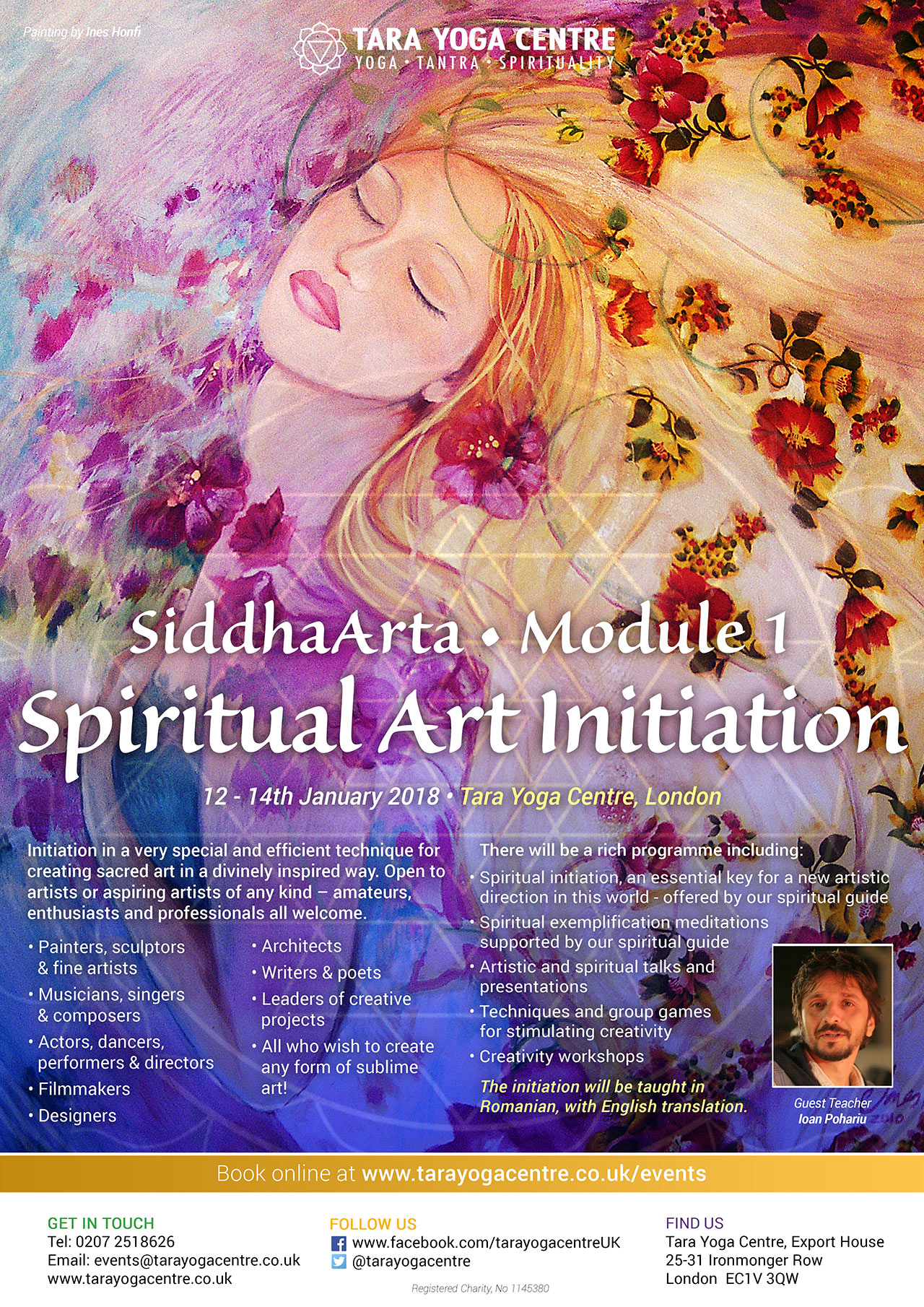 Spiritual Art Initiation SiddhaArta – Module 1
Initiation in a very special and efficient technique for creating sacred art in a divinely inspired way
Open to artists or aspiring artists of any kind – amateurs, enthusiasts and professionals all welcome
– Painters, sculptors & fine artists
– Musicians, singers & composers
– Actors, dancers, performers & directors
– Filmmakers
– Designers
– Architects
– Writers & poets
– Leaders of creative projects
– All who are truly attracted to any form of sublime art!
There will be a rich programme over the three days, including:
– Spiritual initiation, an essential key for a new artistic direction in this world
– Spiritual exemplification meditations
– Artistic and spiritual talks and presentations
– Techniques and group games for stimulating creativity
– Creativity workshops
The initiation will be taught in Romanian, with English translation.
Guest teachers: Ioan Pohariu, assisted by George Adamescu, Valeria Bilea & Radu Solomon
Ioan Pohariu is a professional actor with extensive experience, both in the leading theatres of Bucharest and in the spiritual artistic group, Sophrozin Theatre. A fundamental change appeared in his life when he stepped firmly on the path of soul awakening, through initiatic divine art. From that moment on, interpreting roles turned from mere masks worn with mastery into true spiritual lessons that the actor assimilates and shares with the audience. Ioan is a founding member of the Sophrozin Cultural and Humanitarian Foundation, the Arte Diem Society and the Anima Mundi foundation. He holds art workshops across Europe and the Americas.
The programme will be intense, from 9am until late in the evening for the 3 days. It is essential to participate in the whole programme in order to receive the initiation.
Cost
£150 early bird (until 20th December)
£200 full price
To book, please contact events@tarayogacentre.co.uk
"If you consider yourself an artist, do not forget you are an artist. Do not lose your courage. And do not be afraid of anything: because when you are divinely inspired, you can be sure you will reach your goal." (Constantin Brâncuși)