From 30/05/2018 - 03/06/2018
in
Poggio all'Agnello, Tuscany, Italy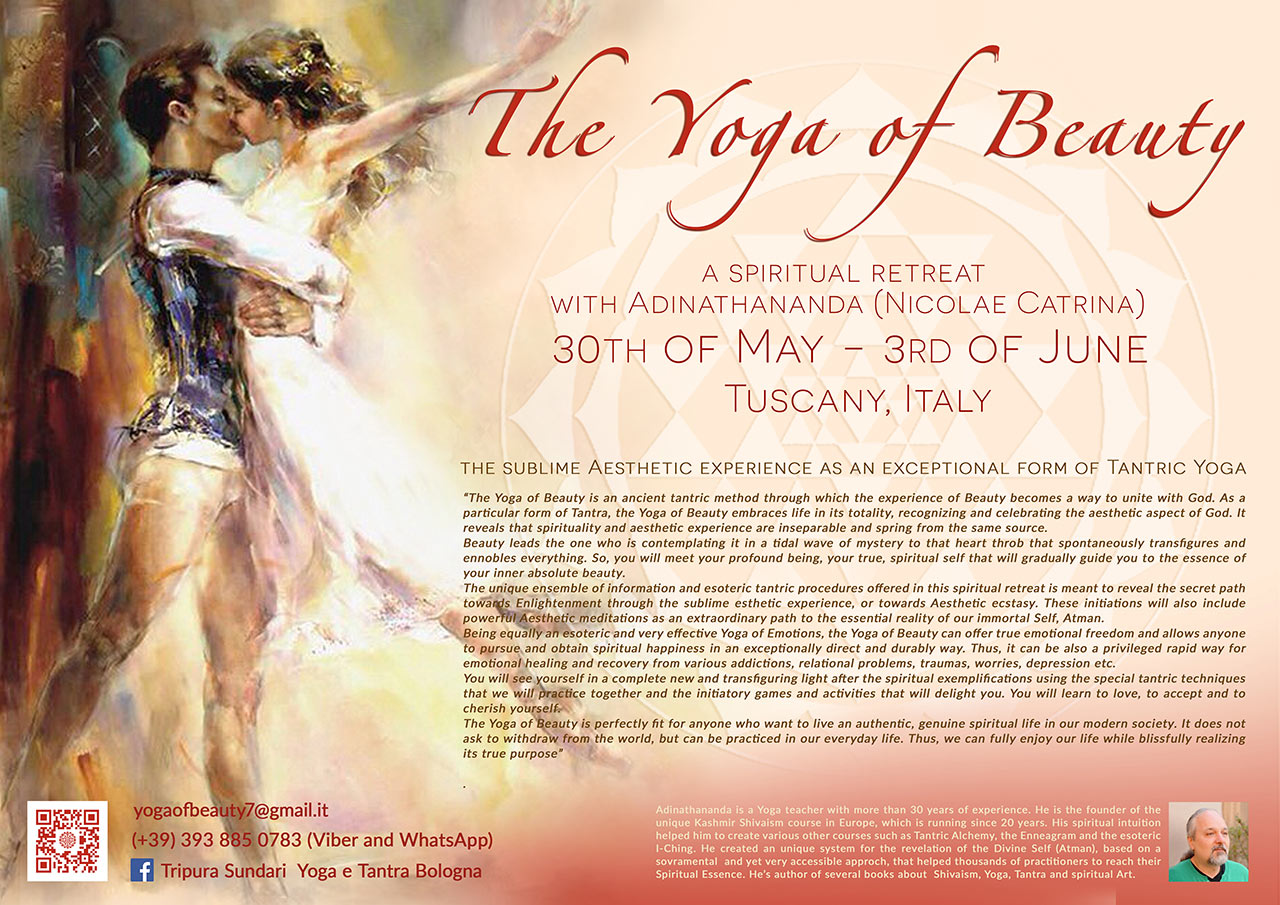 We are delighted to invite you all to the "Yoga of Beauty" retreat with Adinathananda, in the wonderful surroundings of the Italian seaside in Tuscany. 
Discover with us how the SUBLIME AESTHETIC EXPERIENCE can become an exceptional form of TANTRIC YOGA!
"In In everything which gives us the pure authentic feeling of beauty there is the presence of God" 
"Beauty begins where ego ends" 
The Yoga of Beauty is an ancient tantric method through which the experience of Beauty becomes a way to unite with God. As a particular form of Tantra, the Yoga of Beauty embraces life in its totality, recognizing and celebrating the aesthetic aspect of God. It reveals that spirituality and aesthetic experience are inseparable and spring from the same source. 
Beauty leads the one who is contemplating it in a tidal wave of mystery to that heart throb that spontaneously transfigures and ennobles everything. So, you will meet your profound being, your true, spiritual self that will gradually guide you to the essence of your inner absolute beauty. 
The unique ensemble of information and esoteric tantric procedures offered in this spiritual retreat is meant to reveal the secret path towards Enlightenment through the sublime esthetic experience, or towards Aesthetic ecstasy. These initiations will also include powerful Aesthetic meditations as an extraordinary path to the essential reality of our immortal Self, Atman. 
Being equally an esoteric and very effective Yoga of Emotions, the Yoga of Beauty can offer true emotional freedom and allows anyone to pursue and obtain spiritual happiness in an exceptionally direct and durably way. Thus, it can be also a privileged rapid way for emotional healing and recovery from various addictions, relational problems, traumas, worries, depression etc. 
You will see yourself in a complete new and transfiguring light after the spiritual exemplifications using the special tantric techniques that we will practice together and the initiatory games and activities that will delight you. You will learn to love, to accept and to cherish yourself. 
The Yoga of Beauty is perfectly fit for anyone who want to live an authentic, genuine spiritual life in our modern society. It does not ask to withdraw from the world, but can be practiced in our everyday life. Thuy, we can fully enjoy our life while blissfully realizing its true purpose. 
PRACTICAL INFORMATION:
Accomodation prices for the entire period (4 nights and 5 days):
single room 263 €
double room 147 € per person
shared room (3/4 people) 103 € per person
Food
You can choose two options:
The resort's restaurant service which includes breakfast lunch and dinner and costs 30€/day, (120€ for the entire period). Eventual days of fasting will be subtracted by the total amount Self-catering option, using the kitchen available in every room (you can easily buy food in the nearby grocery stores)
Camp fee
Signing up until the 16th of April – 120€
Signing up after the 16th of April – 170€
Location
The camp will be held in the holiday resort "Poggio all'Agnello", surrounded by nature and sea along the Etruscan Coast, near Piombino, Tuscany. It is easily connected by train from the main airports. The closest airport is PISA, but the airports in ROME and BOLOGNA are well connected as well. Precise details about the trip will be given at the moment of subscription.
If you wish to have a look at the beautiful resort, here is the link: https://www.poggioallagnello.it/en/
Tuscany Holiday resort with pool: 3 pools including 1 Olympic pool and 2 heated pools with hydro massage. Poggio all'Agnello offers its guests the best form of …
Contact:
Subscribing and further information at yogaofbeauty7@gmail.com (Maria Antonietta)