Become a Genuine Yoga Teacher!
Are you ready to take your yoga practice to a deeper, more meaningful level and to share with others the profoundly transforming path of integral yoga?
Atman – The International Federation of Yoga and Meditation, offers you the chance to join its unique yoga teacher training program. The coordinating teacher of the course is Advaitananda Stoian.
Course Pre-Requisites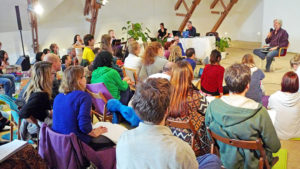 Any student who finished the first two years of the Intensive Yoga Course in one of the member schools of the Atman Federation is welcome to take part in this course. Since the course is entirely held in English language, a fluent understanding of English is required.
Structure of the Yoga Teacher Training Course
The course lasts for two years and consists in twelve weekend meetings approximately once every two months. There will be one course unit on Saturdays from 12-20, and a second one on Sundays from 9-18. Recuperations of the previous meeting take place on the Friday before the following meeting from 9-20. Only three meetings are allowed to miss during the two years period. Missing more than three meetings or missing two meetings in a row results in loosing the right to continue the course.
Content of the Yoga Teacher Training Course
The Yoga Teacher Training Course includes the first five years of the Intensive Yoga Course as being taught in the member schools of the Atman Federation. Additionally, many esoteric notions about the teaching activity will be given. Before every training course, the aspirants are required to study certain lessons from the curriculum of the Intensive Yoga Course, lessons that will be announced in the previous meeting. Each aspirant will also need to make a presentation on a topic that is offered in the class. The aspirants have the chance to select their preferred topic.
Yoga Teacher Training Course Qualification
The course has two exams in both theory and practice. The first exam takes place after the first year and the final exam at the end of the course. The final exam also includes a thesis about a topic, which will be chosen at the first exam, which must be submitted one year later at the final exam. In case, the final exam is not or cannot be taken, it can be repeated, but only together with the next group two years after and with an additional fee. The aspirants who pass the exam and therefore graduate will receive a diploma, which entitles them to teach year one to five of the Atman Intensive Yoga Course, including all the initiations. This diploma is bi-annually validated. Without validation, the bearer loses all teaching entitlements.
Location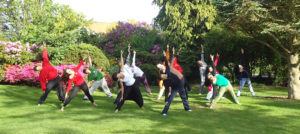 This course will take place in the very heart of the Danish countryside, in the renewed venue of  Paradise Retreat Center.
How to sign up?
For more information about prices of the course, accommodation etc. and to register to this course, please send an email to training@atmanyogafederation.org
With love and aspiration we welcome all students interested to become teachers and we are looking forward to share an extraordinary training with you!
Catalin Balilescu
on behalf of the organizers of the Yoga Treacher Training Course